Posted on
By James @ 360 Cycles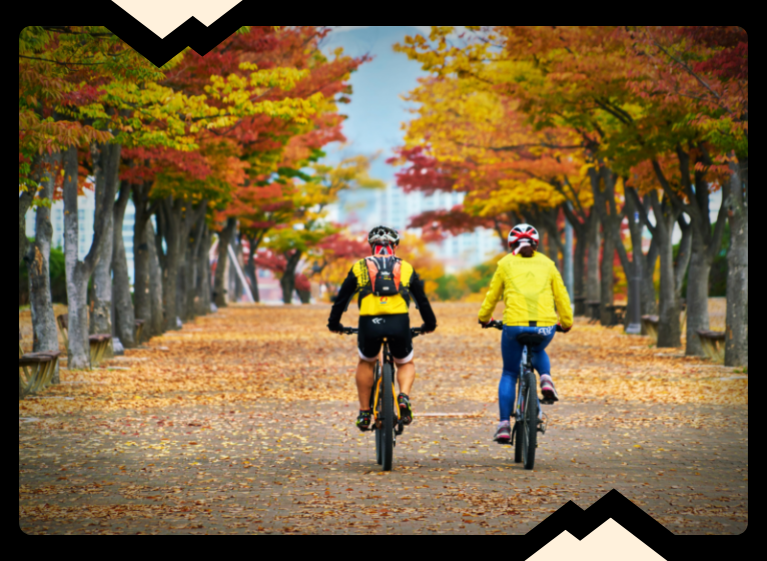 Bikes are one of the most popular forms of transportation. They are relatively cheap, can be used for commuting or recreation, and are better for the environment.
However, with all the different types and models of bikes on the market, how do you know which one is right for you? This article provides some tips to help you choose the right bike for your needs.
The first step is to determine what type of riding you want to do. Are you interested in riding for transportation or recreation? If you plan on using your bike for transportation, then you need a bike that is comfortable to ride and has a good braking system.
If you want to use your bike for recreation, then you will need a different type of bike than if you were using it for transportation. In the end, it's always just between city bikes and mountain bikes. 
The second step is to decide what material your bike should be made from. Bikes come in three main materials: aluminium, steel and carbon. Aluminium frames are much lighter than their steel counterparts and are often used in racing or city bikes because they are so light.
Steel frames, on the other hand, are much heavier and more durable. They are often used in mountain bikes because they can withstand more wear and tear. However, they are also more expensive than aluminium frames. Then you have high-end racers and mountain bikes using carbon frames to minimise the weight and the responsiveness of the frame.
Most of the bikes would have alloy frames and the higher specification models would come with carbon frames. The alloy frames would be used for the main majority of bikes. High-quality steel bikes would be more common in the touring bikes segment. (There are bikes made of cheap basic steel but those are mainly sold by supermarkets and they are designed for sale rather than for use).
Choose the right bike type based on your needs: everyday use or for sports? (city bike or mountain bike?
Biking is a great way to get around - it's environmentally friendly, good for your health, and can even be faster than driving in some cases. But before you can enjoy all the benefits of biking, you need to make sure you have the right bike for you. Are you getting city bikes or mountain bikes? In this article, we'll share some tips on how to choose the right bike for your needs.
There are many different types of bikes on the market, and choosing the right one for you can be a daunting task. But don't worry, we're here to help. In this blog post, we'll give you some tips on how to choose the right bike based on your needs.
Do you need a bike for everyday use or for sports? This is the first question you need to ask yourself. If you need a bike for everyday use, then you'll want something that's comfortable to ride and easy to maintain. A city bike or cruiser might be a good option for you. On the other hand, if you need a bike for sports, then you'll want something that's lightweight and able to go fast. A road bike or mountain bike might be a better option for you. 
Gravel bikes are perfect for outdoor activities that a standard road bike cannot handle. They are faster than a mountain bike, but more durable than the average road bike. These new adventure bikes originated from the United States, where there are miles of rarely travelled tracks created to help fire trucks move through forests. These roads require different bikes in order to prevent damage. With a gravel bike, you can have one machine to cover the three most common purposes of bicycles- commuting, training, and off-road time. As the head tube is taller for more relaxed steering and the angle is slicker for less responsive steering than a mountain bike and more responsive than a road bike, it's different from both.
With an electric bike, riders get a boost and experience a smoother ride with reduced stress on the joints, as well as greater power and precision than a regular bike. You can also go on long rides without physical exhaustion. Riding an E-bike is also a great way to commute, in comparison to taking a car. You can share the sidewalks with cars, and go through parks, cutting through times where you would have to find a different route. When people replace taking the car for short commutes, they help society by cutting down on gas consumption and pollution.
The electric bikes segment is also in rapid growth. Worth including and linking those.
Once you've decided on the type of bike you need, then you can start looking at specific models. When doing this, make sure to take into account the features that are important to you. For example, if you're looking for a comfortable ride, then pay attention to the seat and handlebars. If you're looking for a fast ride, then pay attention to the gears and frame. 
Calculate how much you want to spend on your bike
There's no perfect answer to how much you should spend on a bike, but there are a few things to consider. First, calculate how much you're willing to spend. Then, factor in the cost of maintenance and repairs. Finally, consider the resale value of the bike. With these factors in mind, you should be able to find a bike that fits your budget.
Make sure your bike fits you: picking the right size for your bike
You may have seen professional cyclists whizzing by on their carbon fibre road bikes and thought to yourself, I need one of those. But before you go out and purchase the first bike you see, there are a few key factors you need to consider in order to choose the right bike for you. In this article, we'll go over what kind of bike is best for different types of riding and give some tips on how to make sure you're getting the right fit.
When you're shopping for a new bike, the first thing you need to do is make sure you pick the right size. Just like clothing, bikes come in different sizes to fit different people. Picking the right size bike is important for two reasons: comfort and safety.
If you're not comfortable on your bike, you'll not enjoy riding it. And if your bike is too big or too small, it can be dangerous. That's why it's so important to make sure you pick the right size when you're shopping for one.
Here are some tips for picking the right-sized bike: 
- Stand over the bike frame. You should have about an inch of clearance between your body and the top tube of the frame. If you don't have enough clearance, the bike is too big for you. 
- Check the seat height. You should be able to sit on the seat and put your feet flat on the ground with a slight bend in your knees. If your legs are fully extended with no bend in your knees, the seat is too high and you'll need to adjust it. 
- Look at the reach. This is especially important if you're shopping
The best way to find a bike that fits you is to go to a bike shop and get a professional fitting. This is where an experienced bike mechanic will look at your height and weight and then help you choose a bike that's the right size for you.
If you don't have time or money for a professional fitting, there are still some things you can do to make sure you're picking the right size bike. First, look at the size chart for the bike you're interested in. Find your height and weight on the chart and see what size frame the manufacturers recommend.
Keep in mind that these are just general guidelines and that it's always better to be on the side of buying a bike that's a bit smaller rather than too big. If you're between sizes, it's usually better to go with the smaller size. You can always make minor adjustments to the seat and handlebars to make a smaller bike fit better, but it's much harder to adjust a bike that's too big for you. 
Know Your Gears, Suspension, and Brake Type for your bike
When it comes to choosing the right bike (whether you chose to buy either city bikes or mountain bikes), there are a few key factors you need to keep in mind. First, think about what kind of riding you'll be doing most often. If you're mostly riding on paved roads, you'll want a road bike. If you're planning on doing more off-road riding, then a mountain bike might be more your speed.
Once you've settled on a general type of bike, it's time to start thinking about the details. Gears, suspension, and brakes are all important factors to consider. For gears, think about how many you'll need based on the terrain you'll be riding on. Suspension is important for a comfortable ride, especially if you're going off-road. And finally, brakes are essential for safety, so be sure to choose ones that will work well for your needs.
By keeping these factors in mind, you can narrow down your choices and find the perfect bike for you.
Adjust the fit and go for a test ride
When it comes to choosing the right bike, fit is essential. After all, you want to be comfortable when riding, and a good fit will help with that. 
You can do this by adjusting the seat and handlebars. Once you have a good fit, go for a test ride to see how the bike feels. You should think about what features are important to you. If you value speed, then a bike with thinner tires would be best. If you value comfort, then a bike with thicker tires would be better. 
Lastly, don't forget to budget for accessories. A helmet, lock, and lights are all essential items that you will need to purchase along with your new bike.
Once you've got the fit sorted, it's time for a test ride. This will give you a chance to make sure the bike feels good and that everything is working properly. Pay attention to how the bike feels when you're pedalling and braking. If something doesn't feel right, don't hesitate to ask the salesperson for help.
Conclusion
With these tips in choosing the right bike for you, we hope that you will be able to find the perfect bike that fits both your needs and your budget. There is no need to overspend on a bike that you are not going to use often, but at the same time, do not choose a bike simply because it is cheap. Take your time in doing your research so that you can find the best possible option for you.
FAQS
What are some of the best bikes for kids?
Bikes come in all shapes and sizes - especially for kids. The best bikes will get your kid cycling confidently - all according to the appropriate age range. Balance bikes are great for toddlers and help them develop their motor skills. The bike allows the child to be able to accelerate their ability to balance while they are preparing themselves to transition to a more complex pedal bike.
Most people think that retraining is needed when kids start transitioning into using pedal bikes. That's not the case. Balance bikes prepares kids for more complex pedal bikes because using it prepares their body to have more control of the bike thereby reducing the possibility of falling. 
What are City Bikes for?
You may have guessed it right already. City bikes are bikes appropriate for cities. It's not something you use off-road. City bikes are perfect for short trips around the city. They're easy to manoeuvre and have a comfortable seat. Plus, they don't require a lot of maintenance, so you can take them anywhere you go.
They're also great for commuting, as they're faster than walking and don't require as much energy. If you're looking for a bike that's both comfortable and practical, a city bike is a great option. They're perfect for tourists who want to see the sights without getting car sick, or for people who just want to get some exercise while they're in the city.

What are mountain bikes for?
For cycling enthusiasts who are into off-road fun, a mountain bike is appropriate. Mountain bikes are considered to be one of the most popular types of bicycles out there. They're perfect for people who want to stay active and enjoy a hiking or biking experience, but don't want to deal with the hassle of city streets. 
Mountain bikes are typically made with a durable frame and lightweight components, which makes them comfortable to ride even for long distances. The safety and durability features incorporated add up to the entire weight of the bike and that makes them less efficient and even uncomfortable to use for city biking. 
What are gravel bikes for?
Gravel bikes are meant for all sorts of on-road and off-road riding, but they are also capable of handling technical descents and narrow singletrack. The versatility of gravel bikes makes them a good choice for endurance bike tours.
What are E-bikes for?
Generally an electric bike assists the rider by either giving a boost or turning on the throttle. E-bikes are bicycles with a battery-powered motor that assists riders in pedalling.