This post examines the effects caused by the size of a bike's cassette and chainrings, as well as the number of gears on the bike.
Recently, a lot of customers have been asking about changing the gearing on their road bikes. There are a few reasons to change gearing, but most customers want to make it easier to pedal up hills in relative comfort (i.e. without pedal mashing in a low cadence). With hilly events like the Wicklow 200 and the Ring of Kerry, easier gearing is a great way to save your legs and not wear yourself out too fast.
This post will describe the advantages and limitations of different gearing setups including the maximum possible range for Shimano equipment. It will also discuss the effect of the number of gears on a bike. For ease of understanding, the units for a particular gear will be in km/h at 90rpm cadence on a 700x28 tyre rather than gear ratio or gear inches.
Standard Setup
Currently, the most common gearing setup on new road bikes is a 50/34 chainset with an 11-28 cassette. This means that the big and small chainring have 50 and 34 teeth, respectively, and the cassette's smallest cog has 11 teeth and its largest cog has 28 teeth. This setup has a good range in which the shortest (easiest) gear combination, 34-28, has a speed of 14.1 km/h at a cadence of 90 rpm and the tallest (hardest) combination, 50-11, has a speed of 52.8 km/h.
Cassettes
However, what if you can't sustain 14.1 km/h while climbing and you don't want to drop your cadence too much? In that case, the easiest change to make is to swap your cassette to one with larger cogs. Switching the cassette to an 11-30 decreases the speed from 14.1 to 13.2 km/h and switching to an 11-34 decreases it to 11.6 km/h. These cassettes have the same 11 tooth small cog, so maximum speed is not affected.
The chart below shows the speeds of each gear combination using Shimano 11-28, 11-30, and 11-34 cassette with a 50-34 chainset.

As shown, the maximum speed is the same with the 11 tooth cog and the 11-28 and 11-30 cassettes share the same gearing combinations until the largest three cogs. However, the 11-34 cassette has easier gearing in every combination except while in the 11 tooth cog.
The largest cassette your bike can handle depends on your rear derailleur cage length. Shimano road bike rear derailleurs have two possible derailleur cage lengths: short cage (SS) or long cage (GS). Current 11 speed SS derailleurs can handle up to a 30t cog, while GS derailleurs can handle up to a 34t cog. Older systems generally have lower capacities and it's best to check with us if you're not sure what your derailleur can handle. You may need to change your derailleur to get the range you want.
Chainrings
Another factor to consider is the size of your chainrings. Shimano chainsets currently come in three chainring configurations: 50/34 (compact), 52/36 (mid compact), or 53/39 (standard). All of these sizes are compatible with the same cassette and derailleur combinations. So, for example, if your bike has a 53/39 chainset and a 11-30 cassette, your easiest gear, 39-30, has a speed of 15.0 km/h at 90 rpm compared to a speed of 13.2 km/h with a compact chainset and the same cassette.
The chart below compares two gearing setups using 53/39 and 50/34 chainsets with the same 11-28 cassette.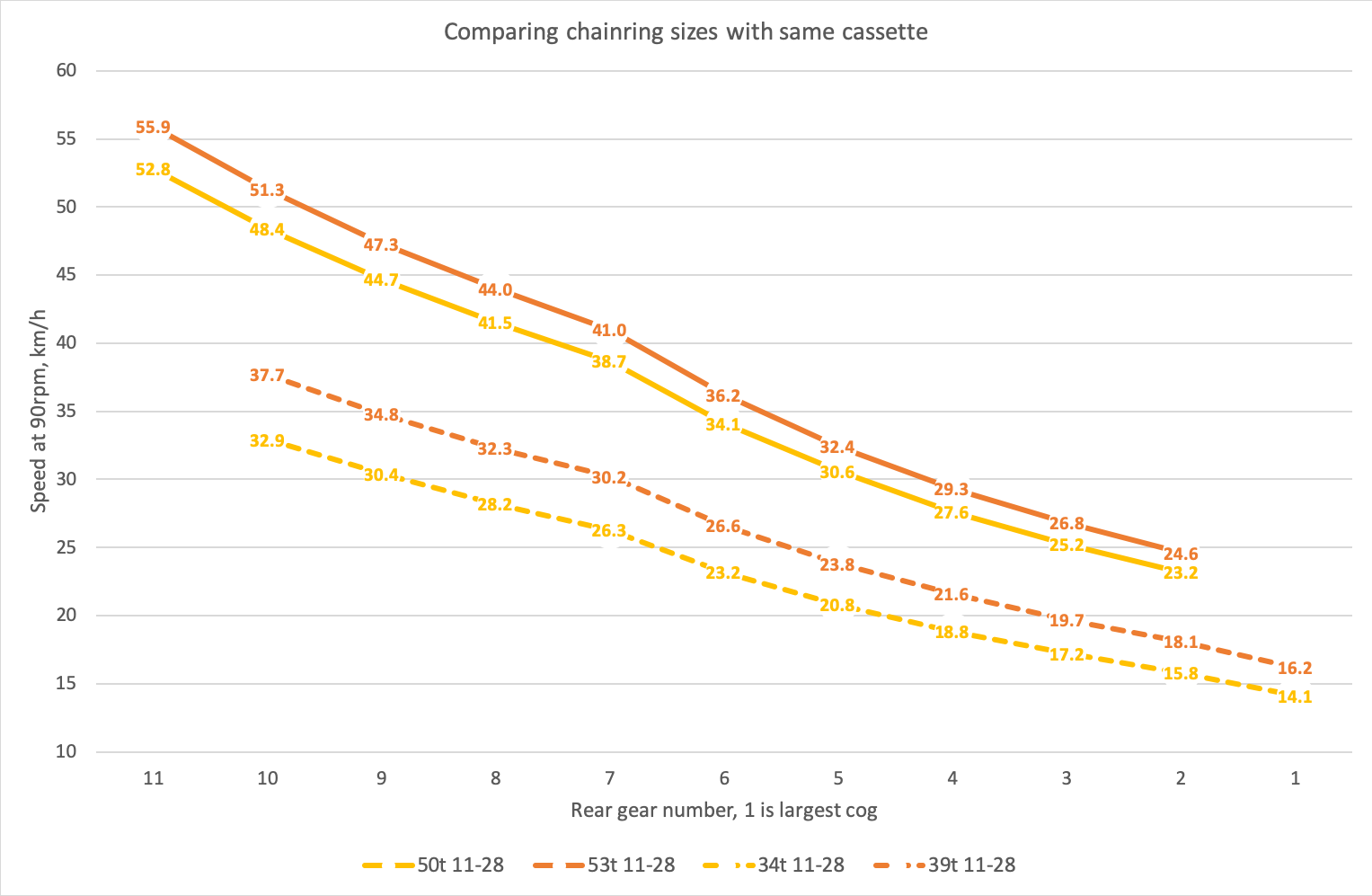 As shown, chainring size has a large effect on speed. For most people, a chainset with compact 50/34 chainrings provides a gear range that suits all their needs.
Most new endurance and entry level road bikes are specced with 50/34 chainsets, racing bikes with 52/36, and time trial bikes with 53/39. This is good news for most riders as the gearing corresponds to the type of riding for which the bike is intended. However, this wasn't always the case. The compact 50/34 chainring combination only gained popularity about 10 years ago as an alternative to triple chainring chainsets and the mid compact 52/36 has only been around a few years. This means that if you have an older bike or a racing style bike that you use to train in the mountains you may have bigger chainrings than you'd like.
Depending on your chainset it can be easy or impossible to switch chainring sizes. Shimano 11 speed chainsets feature fully interchangeable chainrings. A few other newer chainsets have this feature, but with most other chainsets it's not possible to change chainring sizes. In these cases the entire chainset has to be changed if different chainring sizes are desired. This is due to the mounting of the chainrings on the crank arm spider.
Number of Gears
The effect of the number of gears on a bike is commonly misconstrued. Depending on the spec, new road bikes will have cassettes with between 8 and 12 cogs and usually 2 chainrings. Although the number of gears differs between an 8 speed bike and an 11 speed bike, the range of gears is generally similar or the same.
The chart below shows gearing combinations with three cassettes, a 9-, a 10-, and an 11-speed, all with the same 11-28 range.
As can be seen, the range of all three cassettes is exactly the same. What differs between the three is the size of the step between each gear. A 9 speed cassette has larger steps between gears than an 11 speed, which means that you may need to pedal at a faster or slower cadence to maintain your speed or pedal a bit harder or softer to maintain your cadence than you would with an 11 speed cassette.
Conclusion
Clearly, bicycle gearing is not a simple topic and there are many considerations to make before you make changes to your gearing. However, hopefully this post has given you a better understanding of the effects different gearing can have on your ride.