Posted on
By James @ 360 Cycles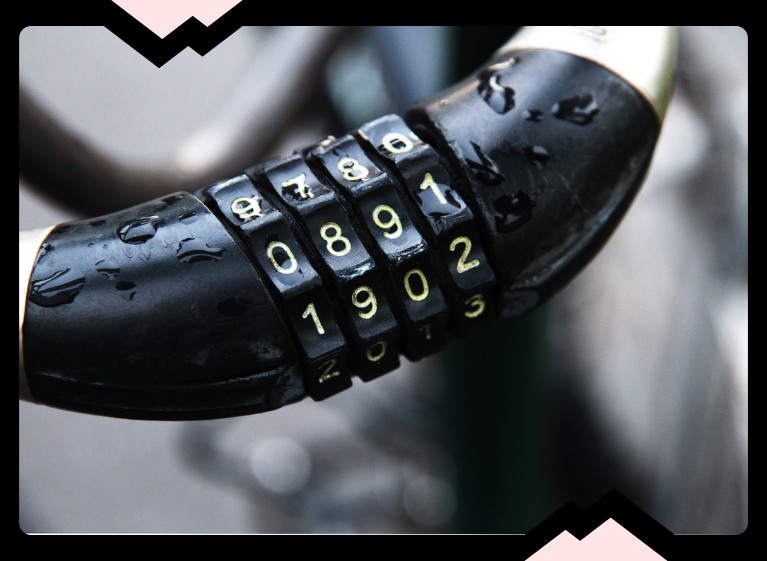 Biking around Dublin? Gotta need to bring some locks. The increasing number of reported stolen bikes in Dublin has reached an alarming rate. A Bike Theft Working Group has actually been set up in Dublin to warn people about this increasing incidence in and around the city and advise bike owners to bring a bike lock - a U-lock or a standard lock.
Bicycle Lock Dublin is a new initiative that is designed to remind cyclists of the importance of properly securing their bikes. This is especially important in Dublin, where there are a lot of opportunistic thieves. Read up and get some ideas on how to secure your bike. 
Types of Locks
There are two main types of bike locks: U-locks and chain locks. U-locks are the most secure type of lock, as they are very difficult to break. Chain locks are also very secure, but they are not as convenient to use as U-locks.
It is important to choose a lock that is appropriate for the value of your bike. For example, if you have a very expensive bike, you should use a high-quality U-lock. If you have a less expensive bike, a chain lock will be sufficient.
Location & positioning
An ideal place to lock up is a well-lit street that is ideally covered by CCTV. From our experience, the best way to secure a bike is to attach it to a sturdy, immovable object such as a lamppost. You can also use a parking metre. Just bring that bike lock and you'll be fine.
And don't forget to use high-quality locks approved by Sold Secure. We recommend spending the money on a Kryptonite lock
Take away valuable items from the bike such as lights and pumps for they easily get stolen. How many of us have kept them there hoping that they won't attract attention but they did and get stolen anyways? Crazy but true.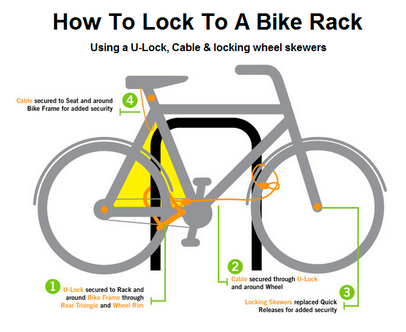 It can be difficult to find the right parking spot for your bike. This ensures that your bicycle will be safe and out of the way. But if you don't have a bicycle stand, park in a secure area where there are plenty of people around, like near a cafe or in an office building lobby. Find an anchor for your bike, like a wide steel pipe or other embedded object in a stone wall. Make sure you chain it so nobody will be able to take it without cutting through it first.
Try to avoid these
We can't stress this enough - try to avoid locking your bike to railings, it could be illegal and your bike might be removed by the facility. It can also cause damage to the object if you try to lock it in place. Do not lock your bike to signposts as much as possible, they can be cut or removed slightly from their concrete base to allow the thief some room.
It is essential to change where you leave your bike every day so it is not always in the same place. Keep an eye on any warning signs that someone is trying to steal your lock and get your bike somewhere else. If there isn't anywhere safe to store your bike at work or a nearby facility, contact them for help so they can provide bicycle storage areas that meet Irish Standards.
Within Dublin, connections are made using two solid bike locks for securing your bike. The bike needs to be off with both wheels and frame securely in order for the locks to stay in place and prevent it from being stolen. Never use a cable lock as a primary lock, regardless of how safe you think the area/facility is. Keep the lock off the ground and attempt to get the tightest fit possible. This helps prevent leverage-type attacks (for example, with a U-lock, a thief will then find it hard to wedge anything inside the ring end U of sink to force it).

The most common mistake is locking the wheel without securing the entire frame. Every shopping centre has many bikes locked only securing the front or rear wheel. In these cases, the bike can be taken only by opening a quick-release skewer.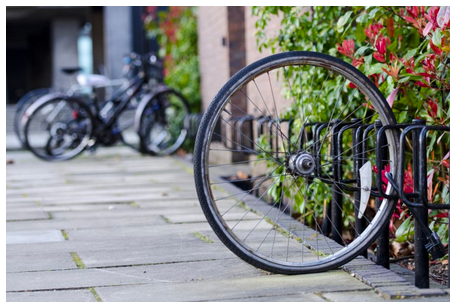 FAQs
Can you lock your bike up anywhere in Dublin?
You can lock your bike up in most places in Dublin, we recommend  looking for s an available bike rack is. If you are worried about theft, you can always buy a bike insurance policy to protect your investment.
Can I lock my bike to a lamppost in Dublin?
You can lock your bike to a lamppost in Dublin, but there are a few things you need to keep in mind. Make sure that the lamppost is made of sturdy material that won't break easily. Also, be sure to use a high-quality lock. If possible, use a U-lock so that it's more difficult for thieves to cut through. Finally, try to avoid parking your bike in areas that are known for crime.
Don't lock your bike in a lamppost near a pedestrian lane. Parking your bike means parking it on a pedestrian path so it's technically illegal. 
Can I lock my bike to a parking meter?
No, it can interfere with their functionality..You might want to consider locking your bike to a nearby fence or railing instead.
Also, Read This useful Article About Using Cycling Cleats and Clipless Pedals.