Posted on
By James @ 360 Cycles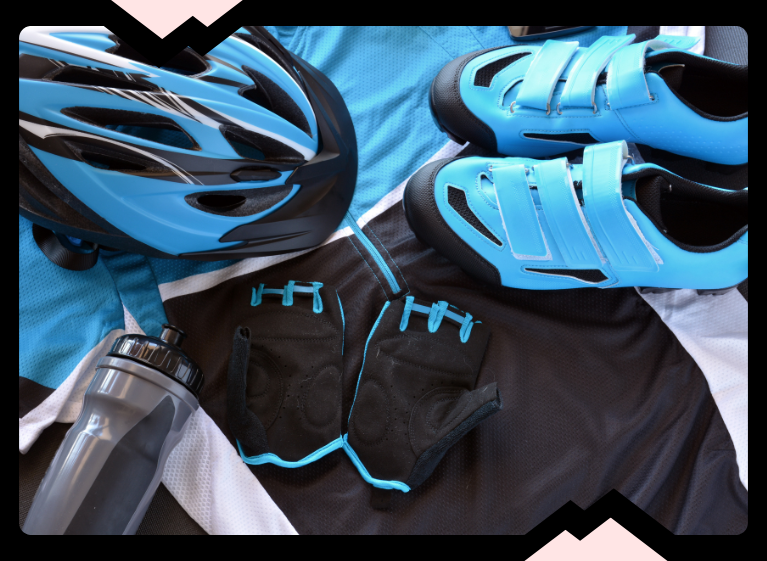 Bike accessories can make your ride more enjoyable and safer by adding features like lights or racks to your bike. In addition, bike accessories can be used to protect your bike from weather conditions or theft.
While most people are happy to just use regular and everyday clothes to cycle, more experienced cycling, and those who cycle regularly would say that wearing the appropriate clothing, and the right bike accessories would certainly enhance the biking experience. 
We personally agree that a number of bike accessories are essential to a safe and more comfortable two-wheel experience, some are actually just nice to have. 
What are the benefits of bike accessories?
There are many benefits to using bike accessories, both practical and cosmetic. Some of the most common benefits include:
- Increased safety: Using bike accessories can increase your safety on the road, as they can help you stay aware of your surroundings and avoid accidents. This is especially true with a helmet as it protects your head from collision or possible injury during a bike crash or when you accidentally fall off a bike.
- Improved comfort: Many bike accessories can improve your comfort and safety while cycling, such as helmets and padded clothing. They can also make cycling more enjoyable, by providing a sense of security and protection from the weather and injury.
- Added functionality: Some bike accessories can add functionality to your bike, such as baskets for carrying groceries or luggage. This can make travelling on your bike easier, as you can carry more luggage along the way.
What are the 7 Essential bike accessories?
We picked the following 7 essential bike accessories that we think are truly must-haves on your two-wheel trek. There are a lot of bike accessories out there, but not all of them are necessary. However, depending on your need, your personal list might differ.
cycling helmet

- you think you didn't need a helmet until you see some videos on the internet whose lives were saved by wearing a helmet. You do not know when the next inevitable accident happens so better be safe than sorry. Invest in the best helmet. Wearing it alone is, in itself, reassuring.

bike locks

- lock your bike if you are leaving it on the street at all. Not all locks are secure so we suggest that you look for a brand with Sold-secure rating. 

front and rear lights or reflector (or both) - lights allow you to be visible on the road and light up your tracks. This is very important especially if you get caught out after dark. These lights have options for a different levels of light intensity. You may want to use a feeble alternative so you won't dazzle other road users. 

bottle cage

and

bottle

- stay hydrated if you are riding long distances. If you are not accustomed to using backpack during cycling, might as well have these.

saddle bag

- if packing on a rucksack or backpack makes you uncomfortable, or if you just want to go on a chill ride, get a saddle bag to carry some spares in the event of any mechanical mishap on the road. 

pump - we advise buying a mini pump that you can bring with you wherever you go with your bike. It always pays to be prepared. You don't to find yourself in the middle of the road with a flat tire. That's gonna be a long ride back home. And you don't want to damage your wheel rim either for riding a bike with a flat tire.

mudguards/fenders - mudguards are important to keep you dry and help protect your bike from road mud which end up shortening the lifespan of your bike and its components. You'll be surprised at the amount of dirt that could go at your bike and your face (and mouth. eeww) if you don't have these accessories available on bike. Get them installed asap.

 
How to choose the right bike accessory for your lifestyle?
Choosing the right bike accessory can make your ride more enjoyable and efficient. You don't need to buy them all (even if you can.). 
Aside from the 7 essential bike accessories we've listed above, we think that you also might want to consider your lifestyle. Are you into off-road odyssey? You might need special clothing like a windbreaker, a backpack, and a spare inner tube. You might also need some multi-tool to help you change tires, replace some parts that snapped out of place, etc. 
Some patch kits might be useful as well as tire levers. And don't forget the first aid kit. We have a first aid kit in our online store which has all the valuable stuff you need to treat a wound or an injury.  Sunscreen is important too if you're going in areas that aren't covered by a forest canopy.
The kind of extra accessories you need will depend on your lifestyle and the activities that your bike group is into. 
Conclusion
Bike accessories can be a great way to enhance your cycling experience. From lights to helmets, there are plenty of options available to help you make the most of your rides. Whether you're just starting out or looking for something new and exciting, it's worth taking a look at the different bike accessories options out there. Which one would you like to try first?
FAQ
Do you need protection for your hands during biking?
There are a few benefits of bike accessories that can keep your hands safe while biking. Grips, gloves, and other gear can help protect your hands from the wind and the cold. If you're going on a long-distance cycling trip, better grab a pair of bike gloves here.